Thank you to our sponsors, P-Line, KFBK Radio, Raahauge's, Fish Emeryville, Giusti's, Fishermen's Catch, Lauritzen Yacht Harbor, and the FishSniffer Mag for giveaways and free subscriptions!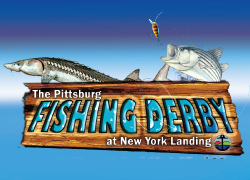 Join us Saturday and Sunday September 28th and 29th for the second annual Pittsburg Fishing Derby! This is a target tournament, and anglers will be fishing for striped bass and sturgeon.
1st through 6th place in EVERY CATEGORY will win a prize. In addition to 8 cash prizes per day, there will be gear and gift card prizes! This tournament has a minimum cash purse of $5,000, so you're practically guaranteed to be a winner! (Cash prize amounts will depend on registration volume.)

Don't forget to register now either online, by mail, or at the Pittsburg Marina. Check out the Rules & Regulations page at www.pittsburgmarina.com/fishderby for all registration details and more.

Finally, you won't want to miss out on these AWESOME PRICES!
Minors 15 and younger FREE
Anglers 16-64 years old $40
Seniors 65 and older $30

Don't miss out, it's going to be a "reel" good time!
+
Derby Rules and Regulations
+
Daily Tournament Schedule